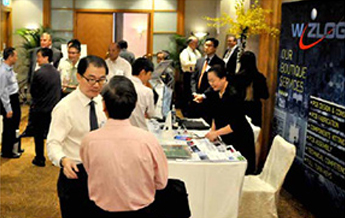 Wizlogix is proud to have been a Gold Level Sponsor for the General Assembly and Supplier Forum organised by the International Aerospace Quality Group (IAQG).
An international non-profit association of companies providing aviation, space and defence products and services, the IAQG services to uphold the quality and standards of materials used in aerospace assembly. With an ongoing commitment to achieving significant performance improvements throughout the supply chain, the association regularly organises events to update the aerospace community on the latest standards and quality initiatives.
Hosted in Singapore for the first time, the Spring 2016 forum drew an international audience as the biggest names in the industry gathered at the Grand Copthorne Waterfront Hotel from 25-30 April 2016.
Attendees gained valuable insights into IAQG as they were introduced to the association's activities, mission and purpose of establishment. The event also provided a platform for participants to network and connect with other like-minded industrial players.
To show our support for the forum, Wizlogix hosted two booths from 28-29 April 2016.